WE NEED ADOPTERS NOW!
A Better Tomorrow Shelter for Cats, Inc. will be winding down operations over the next few months. The low intake numbers positively suggest that the shelter's services are no longer needed in the area. According to Sarah Fearing, the shelter's director, "Operating the shelter has been a wonderful experience. I am very happy with the impact the shelter has made over the last five years on the stray cat population in Winchendon and surrounding towns."
Currently, the shelter has eight cats available for adoption. A Better Tomorrow will continue to work to find families for each of them before closing in December. It encourages the community to share the news that families are needed for these cats. The shelter will not be taking in more cats at this time. Instead it will provide people with a resource list of other shelters and rescues in the area. Since the shelter's founding in 2012, it has placed nearly 500 cats and kittens into loving homes. The Shelter can't thank the community enough for their support of its mission. Volunteers of all ages have given much of their time and care, which is the primary reason the Shelter has been so successful.
The rental spaces at 200 & 202 Central St. in Winchendon will be looking for new tenants. For those wishing to see the spaces, please visit during open hours or schedule a visit by e-mailing shelter4cats@gmail.com. The balance of remaining funds that have been donated to the Shelter will be donated to other no-kill rescues in the Metro West area.
For now, A Better Tomorrow will continue to have open hours weekly, on Wednesdays from 6-8 p.m. and Saturdays 12-2.
All of our cats have been examined by a veterinarian, tested for FeLV/FIV (Feline Leukemia/Feline AIDS), neutered, vaccinated and microchipped. They have been de-wormed and treated for fleas.
If you are interested in adopting, please review our list of adoptable cats and our adoption guidelines. Then fill out our adoption application and we will be in touch with you. If you're interested in meeting one of them for potential adoption, please contact us via e-mail at shelter4cats@gmail.com.
The shelter is open Wednesday 6-8PM, Saturday noon-2PM, and by appointment.
Our Available Cats & Kittens
Featured Cat of the Week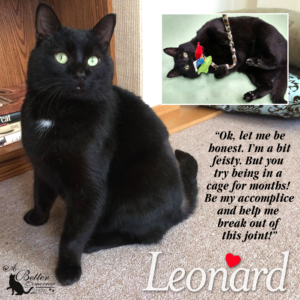 Leonard is an adorable guy with a big personality. Being at the shelter for many months has been frustrating for him. He can play a little rough at times and needs a cat savvy adopter that can tell when he has had enough attention. Leonard loves playing with his toys and would enjoy room to explore in a forever home. He would do best with a family without small children or other pets. Help us find Leonard a home before we close by sharing his photo! He's waited too long already.